History of Twigas'House
Twigas'House association was created in October 2016 by sisters Lara and Sandrine. However, the idea of undertaking this project began in 2012.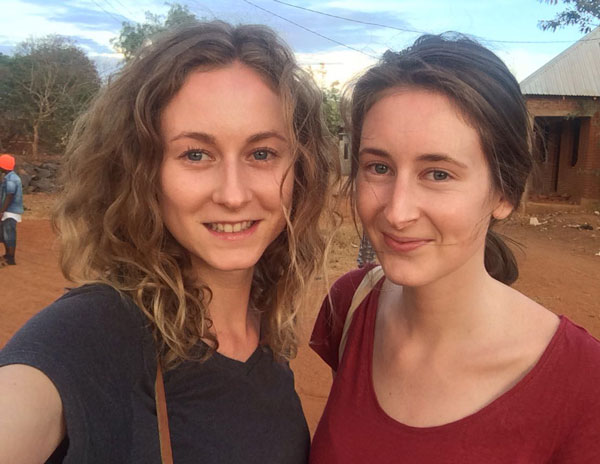 Sandrine
In 2012 I volunteered in an orphanage in Dar es Salaam for 3 months.
During this experience, I met Sebastian, a volunteer from Denmark, who had just spent 3 months in Gairo, a rural town 5 hours away from Dar es Salaam. After seeing a suitcase I'd brought with me to Tanzania filled with clothes for children, Sebastian urged me to travel to Gairo and meet with Chacha who runs a children's centre there and explained that they live in extreme difficult conditions and they would really need those clothes.
Naturally I agreed and so we travelled cross country by bus to reach Gairo. Upon arrival, there waiting at the bus station, was Chacha.
Having welcomed us in to his house and introducing us to his family and staff members, I was deeply touched by Chacha's warm heart, and I admired his care and support for the children, especially knowing that he had very little means himself. I met the children on a Saturday, when they all gather at the centre.
Words cannot describe that moment, when all 207 orphans entered a small classroom and sat down in silence, all were watching me with wide-eyes and smiling.
On my way back to Switzerland I vowed to myself that "one day, I will help these beautiful children".
Lara
My sister Sandrine came back from her humanitarian experience changed and deeply touched. When she described the whole experience, and more particularly, about Gairo, she kept saying "Lara, you can't imagine. We need to do something".
I wanted to understand what she was talking about and so without hesitation we decided to plan another trip to Gairo, together.
Thus, in 2013, we went back to Tanzania, and there he was (as she told me he would be!); Chacha, waiting for us at the bus station. He welcomed us like granddaughters and was more than happy to meet me.
During the stay, we visited the children's homes and families. For me this was the hardest experience I had in Tanzania, as I realized how desperately bad their living conditions were. From that moment on I felt that it was my turn and responsibility to motivate Sandrine to help these children as soon as possible. Hence, together with Chacha we discussed the needs and future of his centre and suggested that we could undertake a common project.
It was during that trip that Chacha gave us the nickname "The two Twigas" as we are quite tall and giraffe like!
Although we were desperate to start work on the project, we were both in the middle of our studies and so decided to wait until after we'd completed our Masters in September 2016 to turn our full attention to it. During that time, we kept in touch with Chacha and his team and continued to discuss at length the orphans of Gairo and how best to support them and came to the idea of building an orphanage that could host at least some of the children.
Consequently, we decided to found a Swiss Association, that would closely collaborate with Chacha's organization to build an orphanage and maintain it on the long-term.